Treatment for Scoliosis
What's all the talk about scoliosis? What does scoliosis really mean?
Can chiropractors provide treatment for scoliosis?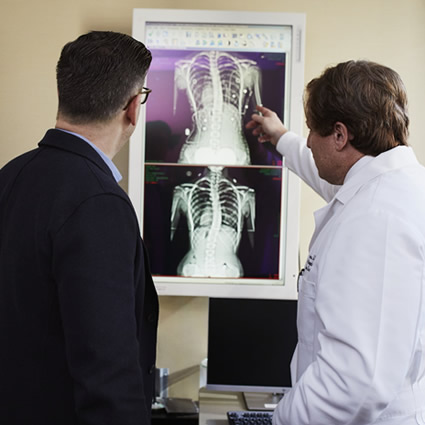 At Complete Care Health we're going to try and answer the scoliosis questions.
The word scoliosis is just another "Umbrella term". Umbrella terms are commonly used to give a general non-specific meaning or diagnosis of a condition. We avoid general "umbrella terms" like "disc bulge", "sciatica" and "scoliosis", instead we use evidence based medicine to give our patients diagnoses specific terms.
Scoliosis means a curve in the back?
When most people talk about scoliosis they think of a curve in their back and that's correct. Scoliosis is a curve in the back as seen in the (coronal) plane, the postero-anterior view or simply as seen from behind. Well humans aren't perfectly symmetrical so it's normal to have small asymmetrical differences in our spine.
Evidence based literature tends to suggest that scoliosis below 35 degrees is not significantly linked with back pain and is only clinically significant if above 35 degrees and progressing. This is most commonly seen in adolescents / teenagers. If "true" scoliosis is detected either surgery, bracing or careful monitoring is required by a specialist at regular intervals over a timeframe until the scoliosis is deemed to be non-progressing.
More FAQs

Scoliosis Treatment Perth WA | (08) 9204 1010