Azusa Omori
Massage Therapist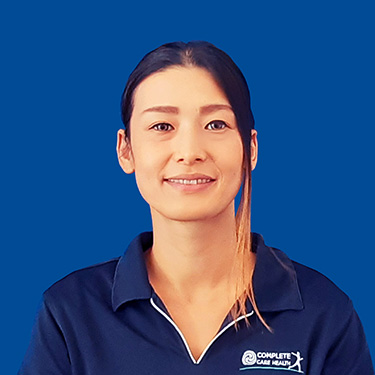 Azusa is a Remedial & Sports Massage Therapist with her Diploma of Remedial Massage from the Australian College of Sports and Fitness. She arranges her treatment plans based on each client's conditions and needs and takes into account variables such as chronic pain, previous surgery rehabilitation, sports injuries or muscular dysfunction. She combines different treatment techniques to maximise the effectiveness of her treatment.
She can do a wide variety of treatment types including remedial massage, sports massage, lymphatic drainage, trigger point therapy, prescribe stretches, reflexology, deep tissue massage, myofascial release, Swedish massage and pregnancy massage.
She is passionate about developing her treatment skills further and continues to update her knowledge in this industry by attending further industry led training. She is currently completing a course in fitness to get a deeper understanding of human anatomy and the function of the body to give her clients more specific advice for their condition.
Treatment techniques include:
Deep tissue
Trigger Point Therapy
Myofascial Release
Swedish
Muscle energy technique
PNF stretch
Functional Release
Positional Release
Lymphatic drainage
Pregnancy Massage
Sports Massage
Reflexology
Functional Release Cupping
Stational / Slide Cupping
Kinesiology taping
Areas of expertise:
Neck, upper-lower back pain
Leg, arm and foot pain
Tension headache due to desk work, Upper/Lower crossed syndrome etc)
Herniated disc pain
Frozen shoulder
Tennis elbow
Bursitis
Joint impingement
Sciatica
Outside of work Azusa enjoys fitness based dance exercise, stretching to maintain flexibility, reading, music and visiting cafés with friends.
Call or email today to make an appointment with our massage therapists in Perth at Complete Care Health.
MASSAGE THERAPY »


Azusa Omori | (08) 9204 1010